Actona Group's Acquisition of Theca is Now Approved by the Danish Competition Authority
In October Actona Group announced the acquisition of Theca, and now the acquisition has been approved. Theca is therefore officially part of Actona Group.
The acquisition strengthens Actona Group's position within the upholstery market and is a strategically important step in the company's ambitious growth strategy "Sustainable Business".
Consolidation of the Market and Activities
It is a mature market where there still are some challenges in the supply chain, which has increased over the past 18 months. "We see an opportunity to consolidate the upholstery market in Actona Group. With the acquisition of Theca, we get added competencies and capacity. We will also be able to create a synergy effect across the factories. The establishment of an upholstery division with a turnover of more than DKK 1 billion - which will be doubled during the strategy period - opens several new opportunities. We will be able to produce to a broader customer portfolio and cover even wider and better in the upholstery market", says CEO of Actona Group, Jimmi Mortensen.
Creating a Strong Upholstery Division
As of today, Claus Svenningsen, CEO of Theca, is responsible for the new upholstery division and joins the management team of Actona Group.
"Actona Group will have a very strong position within the upholstery market, and I look forward to working with Actona Group's existing upholstery factories and creating synergy with Theca's factories in Eastern Europe. To have a strong, wide-ranging upholstery division offers many opportunities, and I look forward to developing the area further," says Claus Svenningsen.
Together Towards New Goals
In Actona Group's ambitious growth strategy, there is a strong focus on creating a stronger and more sustainable business. The acquisition and strengthening of the upholstery category are therefore a strategically important step, that not only creates a larger and more focused business, but also a business that actively takes responsibility for developing more future-oriented solutions and sustainable products.
In relation to creating more sustainable products, one of the first areas Actona Group will focus on, is wood. Wood remains to be an important material in the production of upholstered furniture. Therefore, one of Actona Group's goals is to exclusively use FSC-certified wood in its own production from 2025. By following the highest industry standards, Actona Group helps to ensure responsible forestry - now and in the future. As early as the beginning of 2022, sofas produced at all the group's own European factories will be fully FSC-certified.
Theca will continue to have headquarters in Risskov, Denmark, and the employees will continue to work from there. There will also be no changes in the sales organisations, as Theca and Actona will be sold as two separate brands, each with their familiar sales organisation behind them. Flexlux, which is Theca's well-known brand, continues as an independent brand.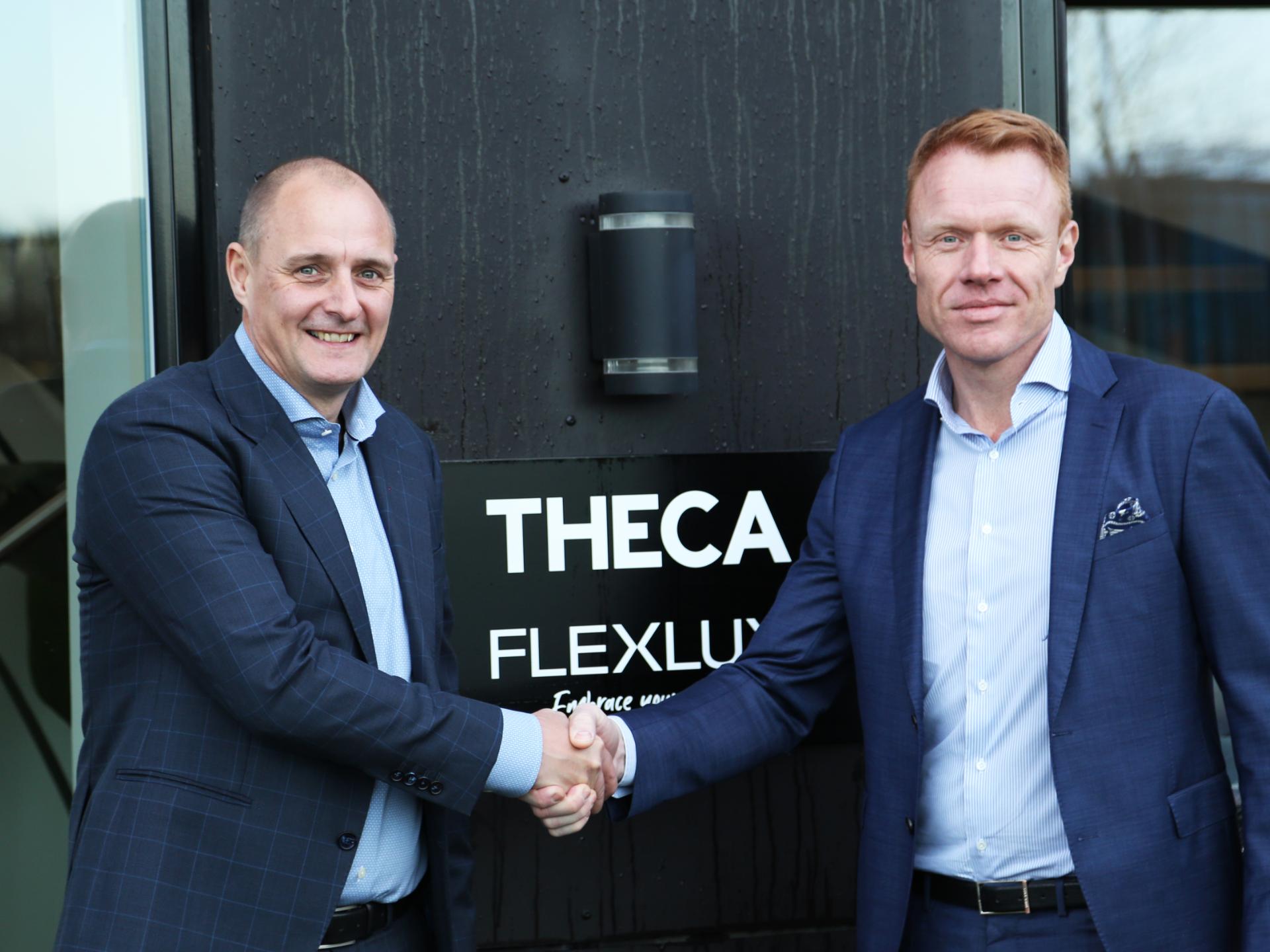 ---
Actona Group acquires Theca
Shortly after announcing a record result and the launch of an ambitious growth strategy Actona Group can now announce the acquisition of Theca. With the new acquisition Lars Larsen Group strengthens its position within the upholstery market.
Actona Group, which is a part of Lars Larsen Group, has just introduced its ambitious growth strategy "Sustainable Business".
One of the focus areas is a strengthening of the position within upholstery which is one of the three central business areas. The strengthening will be obtained through a combination of organic growth based on current factories in Ukraine and China and through focused acquisitions primary in Northern- and Southern Europe.
With the acquisition of Theca, Actona Group takes a major step towards creating a strong upholstery division with an expected billion DKK revenue.
Theca primary produces sofas and resting chairs and has their own factories in Lithuania and Belarus where more than 3.500 orders are produced weekly.
"The acquisition of Theca is the first in an expected number of strategically important acquisitions, which will both strengthen our innovative and production competences and upscale our capacity significantly" says CEO from Actona Group, Jimmi Mortensen and continues:
"Upholstery is the largest product category within the furniture market and therefore it is important for us to constantly grow through both acquisitions and organic growth".
Great opportunities
Theca is founded by Claus Svenningsen, who remains in the company and will be responsible for the new consolidated upholstery division at Actona Group.
"I am incredible pleased for the prompt settlement of the agreement and to be trusted the responsibility of the consolidated upholstery division, which contains a huge potential. Theca has always been an excellent production company with very proud craftsmanship traditions. This is now combined with the strong customer and market understanding of Actona Group" says Claus Svenningsen.
Till now he owned a third of Theca while Dansk Ejerkapital (former Industri Udvikling) and LTP Group likewise had a third of the ownership each. When the sale is completed, Theca will be 100 percent owned by Actona Group.
Prior to this, the sale must be approved by the The Danish Competition and Consumer Authority which all parties hope will happen promptly.
Actona Group has just announced key figures for FY21 and presents a revenue of 2,43 billion DKK, while the recent financial year Theca had a revenue of around 0,5 billion DKK.